Imagine…a truly regal and spacious room in soothing Williamsburg blue and rose tones. You might need the embroidered footstool to climb onto the comfortable pencil post king bed. Lace curtained French doors lead to a two-person Jacuzzi with a separate shower. Enjoy the fireplace on the comfortable settee or wingback chairs, or venture out and relax on the private, covered balcony.
Second floor
King bed
Jacuzzi tub
Separate shower
Private Balcony
Fireplace (seasonal)
Gourmet breakfast with popcorn and cookies
Wifi
Smart TV/DVD
2 plush bathrobes
BeeKind toiletries
Hair dryer
Charging station
Extension cord
Parking space in our private lot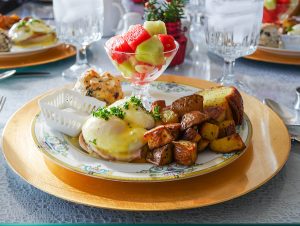 A Little Victorian History
The "crinoline period" ran from the 1850's-1870's. Rich ladies wore crinolines made by layering several (increasingly ornate) skirts over a large wooden hoop or wire frame to create truly massive outfits. As well as obstructing doors, crinoline-clad women frequently set themselves on fire by brushing against candles, so the trend didn't last that long. Satirical magazine Punch advised husbands to register their wives at the fire insurance office. The "crinoline" period gave way to the bustle period which wasn't much safer. They strived for a tiny waste. Most ideal was 30 centimeters which is about thirteen (13) inches. Society ladies fainted in droves.