You'll think of springtime and flowers when you enter this enchanting guest room. Imagine……a day riding the sand dunes and an intimate picnic by the lake. Then come home and cuddle in freshly ironed sheets, surrounded by the soft, yellow décor. Sip wine by the fire in a wingback or laugh and giggle in a relaxing Jacuzzi.
Second floor
King bed
Jacuzzi/shower combo
Fireplace (seasonal)
Gourmet breakfast
Popcorn and cookies
Wifi
Smart TV/DVD
2 plush bathrobes
BeeKind toiletries
Hair dryer
Charging station
Extension cord
Parking space in our private lot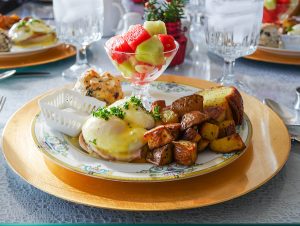 A Little Victorian History
Corsets made from whalebone, and sometimes even iron or steel, helped women achieve the impossibly tiny waists that were fashionable at the time. But an ugly side effect was circulation would be cut off, and women would have trouble breathing. A sign that something was wrong with this fashion trend? Hordes of women fainting. The Victorians thought women were prone to fainting from excitement, but they were wrong. The ladies would momentarily pass out because their midsections were bound so tightly.