"The breakfasts…oh my goodness! You will not find anything like them anywhere. They were absolutely delicious and I found myself getting really excited to see what would be served up the next morning."
~ Melissa • Bluffton, IN
"This was the 10th time we have stayed here and the food, as always, was delish. Since you won't share the famous scone recipe, how about selling the scones? Maybe 6 to a box – we would certainly be a good customer."
~ Carol and Lee • South Bend, IN
"The best scones on the planet!"
~  Kirsten • Chicago, IL
Every morning at the Carriage House starts with a decadent, gourmet breakfast served with a fresh-baked scone and Devonshire cream. Our sun-filled dining room and screened porch beckon you to greet the morning in grand style. Savor that first cup of coffee at your own private table while gazing at the harbor.
In warm weather guests gather for breakfast on tiered porches, watching sailboats and yachts while soaking up the morning sun.
Breakfast is served at 9:00 a.m. while coffee and tea are available at 7:30 a.m.
We always use fresh ingredients prepared from scratch, in-house. We gladly accommodate dietary allergies and restrictions like gluten-free, vegetarian, or vegan. Please allow us a week's notice if you have a special dietary need.
Afternoon Treats
Around 3:00 p.m. guests enjoy freshly popped popcorn. Each day features different kinds of homemade cookies.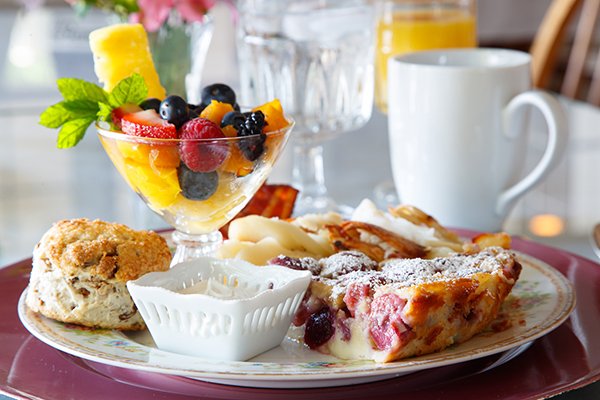 Cherry Clafoutis
Julia Child shared this French recipe which is a cross between a custard and a pancake. We make it with the freshest fruits in season.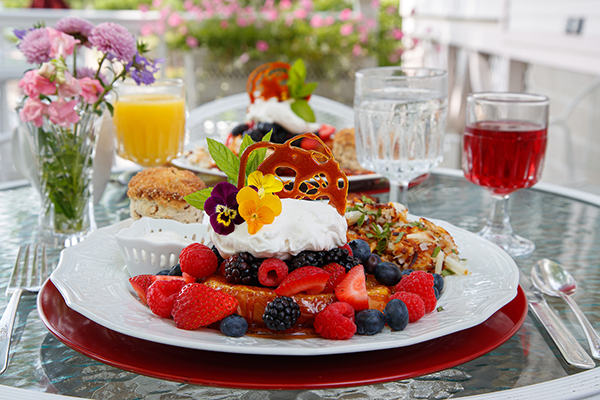 Crème Catalana French Toast
Our house-baked challah is soaked in a rich custard with caramelized sugar and topped with local berries and fresh whipped cream. Decision: eat first or take a photo.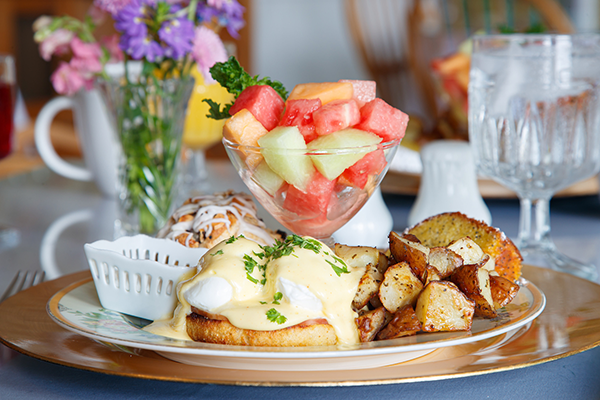 Eggs Benedict
Traditional Benny with the most delicious home made Hollandaise that's prepared minutes before you're served.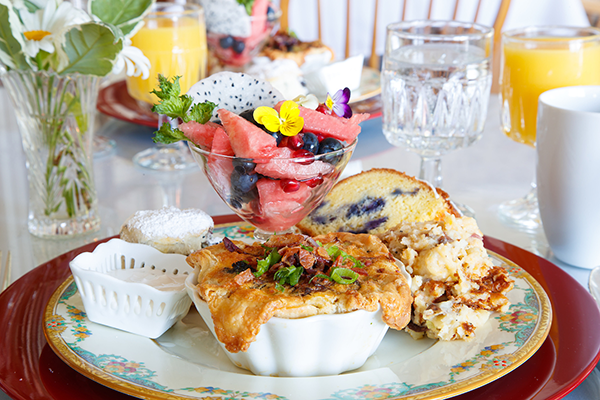 Egg Soufflé
Our savory light and airy egg dish infused with all the best ingredients of the season.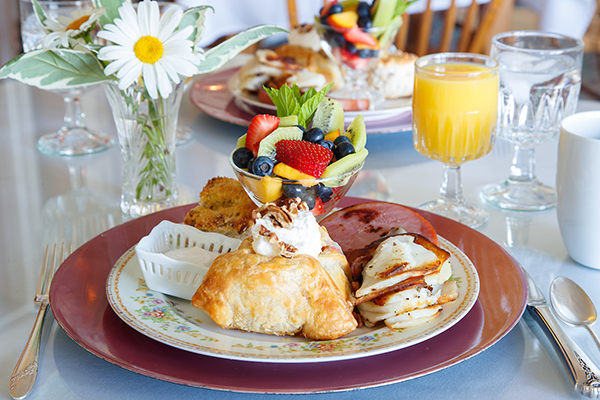 Peach Dumpling
A fresh, local peach wrapped in homemade dough, baked with a pinch of brown sugar to make a gooey sauce, and topped with maple butter.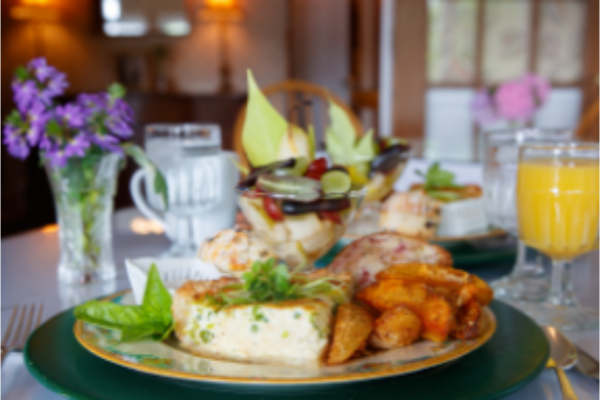 Pea Gruyere Quiche
Layers of peas, fresh when available, rich gruyere, and scallions topped with a savory egg custard and baked to perfection.