Hues of chocolate and creams romanticize this elegant guest room. This room emits old world charm with many original oil paintings and lots of velvet. A trip to South Haven isn't complete without watching one of our fabulous sunsets from the sandy beach of Lake Michigan. So, before you settle in, walk across the street and be amazed.
First floor
Queen bed
Jacuzzi/shower combo
Fireplace (seasonal)
Gourmet breakfast
Popcorn and cookies
Wifi
Smart TV/DVD
2 plush bathrobes
BeeKind toiletries
Hair dryer
Charging station
Extension cord
Parking space in our private lot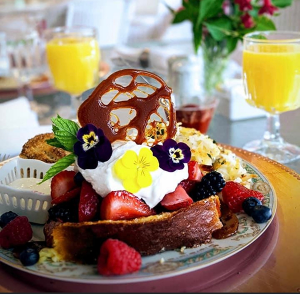 A Little Victorian History
In 1895, Thomas Crapper bought a patent for a "Silent Valveless Water Waste Preventer," and began making toilets. "In the crapper" comes from his name. In 1890, Scott Tissue came out with the first toilet tissue paper on a roll. Selling this "unmentionable" was difficult; it couldn't be advertised. Chemists sold it by bringing it up from under the counter, as people were too embarrassed to ask for it. As far forward as 1935, Northern Tissue advertised its tissues as "splinter-free." Ouch.