Victorians loved their dogs and so do we, and it shows with pictures of noble hounds on the walls. There are white rocking chairs on a large corner balcony that overlooks the harbor and a large Jacuzzi for your enjoyment. The Phaeton is decorated in warm shades of browns and creams. This sun-drenched room is a perennial favorite among our Carriage House Harbor guests.
Second floor
Queen bed
Jacuzzi with separate shower
Private Balcony
Fireplace (seasonal)
Gourmet breakfast
Popcorn and cookies
Wifi
Smart TV/DVD
2 plush bathrobes
BeeKind toiletries
Hair dryer
Charging station
Extension cord
Parking space in our private lot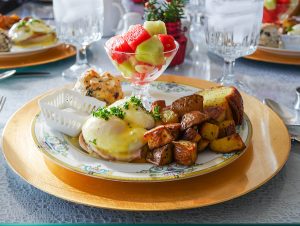 A Little Victorian History
For a fashionable woman in Victorian England, a pet miniature dog was as indispensable as an opera box or presentation at court. She was nobody without her pet who accompanied her wherever she went. The royal pet was fed and housed according to canine requirements, as daintily as the heir to the title and estates. In spite of the devotion of mistresses to their dogs, however, it must be admitted that they were extremely fickle in their attachments, as the fashion in lapdogs changed as rapidly as that in gowns and bonnets.