A romantic hideaway tucked into a cozy corner of the inn. Soak in the oversized in-room Jacuzzi or share a loving moment by the fireplace. A queen-size bed with freshly ironed sheets will lull you in soothing dreams. Wake up to a delicious breakfast, and then start your day with a walk on the beach, fruit picking (blueberries, apples, or peaches) or just relax with a book on the patio.
Second floor
Queen bed
Double Jacuzzi in bedroom
Shower in bathroom
Fireplace (seasonal)
Gourmet breakfast
Popcorn and cookies
Wifi
Smart TV/DVD
2 plush bathrobes
BeeKind toiletries
Hair dryer
Charging station
Extension cord
Parking space in our private lot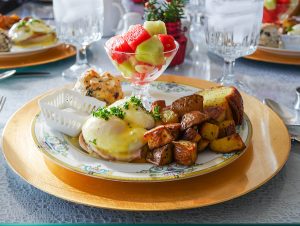 A Little Victorian History
There was an expectation that the rich would uphold moral values for those on their estates over whom they had influence. However, some aristocratic Victorians didn't always behave according to the values of the time. Victoria's son Edward had at least 55 lovers, even after he got married. Occasionally, there would be a great scandal reported in the newspapers. May to July was 'the season' when the family moved to London for the social life – theatre, dances, and parties. August to November was the shooting season when lords moved to their country homes to shoot grouse or stags and go fox hunting. In the winter, many rich families went abroad. For the more adventurous younger adults of a richer family, there was the "Grand Tour" of European sites and cities.