Spend the day biking, and take a stroll downtown to shop. After a romantic dinner, come back to your room decorated in shades of greens and peach. Coupled with floral oil paintings, this room will set a relaxing mood. Enjoy the rocking chairs on your private porch while watching the sailboats, chatting or stargazing. Then snuggle in the queen bed, layered with fresh linens and warmed by a glowing fire.
Second floor
Queen bed
Shower in bathroom
Large Private balcony
Fireplace (seasonal)
Gourmet breakfast with popcorn and cookies
Wifi
Smart TV/DVD
2 plush bathrobes
BeeKind toiletries
Hair dryer
Charging station
Extension cord
Parking space in our private lot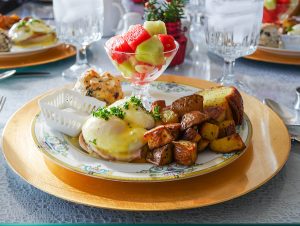 A Little Victorian History
Think you're dying to look beautiful? Late Victorian women used arsenic laced "complexion waters" and wafers, and bathed with arsenic soap and shampoo in an effort to improve their skin, make themselves look younger, and increase their attractiveness. Some men took arsenic pills to stimulate their libidos. Did it work? Of course not! But it comes as no surprise that the century was awash in arsenic. Green dyes used in many products including wallpaper, clothing, and food contained terrifying amounts of arsenic. A notable fact is that arsenic could be bought at the chemists by anyone, and it was cheap. Half an ounce – sufficient to murder fifty people – cost only a single cent.