Fall in love again in this romantic, spacious room. The king-size four-poster bed is adorned with European lace. You can explore your inner calmness in the double in-room spa tub sipping a glass of champagne. Or, rock your day away on the large covered porch watching the birds soar and the sailboats glide. The glowing fireplace will warm your toes as you settle in bed and drift off to a restful sleep.
Third floor
King bed
Double Jacuzzi in bedroom
Shower in bathroom
Covered private balcony
Fireplace (seasonal)
Gourmet breakfast
Popcorn and cookies
Wifi
Smart TV/DVD
2 plush bathrobes
BeeKind toiletries
Hair dryer
Charging station
Extension cord
Parking space in our private lot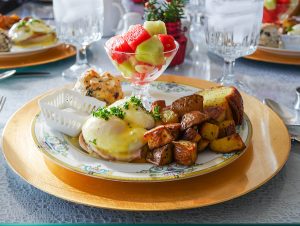 A Little Victorian History
We've all seen parodies of "racy" Victorian photographs where a woman shows off a single ankle. Well, showing even a tiny bit of skin was taboo, but necessity is the mother of invention. Thus, the ever ingenious Victorians created "modesty boards." These boards would be nailed or propped up close to the ground to ensure that women's ankles were not visible when they were seated.