Imagine…a day of touring and tasting at local wineries. Come home and play a game of backgammon in the library before heading to your room. Soak in the largest jetted tub at the Inn while listening to music and sipping one of the many Michigan wines. In the morning, enjoy a cup of coffee on your balcony while watching the boats in the harbor.
Third floor
King bed
Large jacuzzi/shower combo
Private balcony
Fireplace (seasonal)
Gourmet breakfast
Popcorn and cookies
Wifi
Smart TV/DVD
2 plush bathrobes
BeeKind toiletries
Hair dryer
Charging station
Extension cord
Parking space in our private lot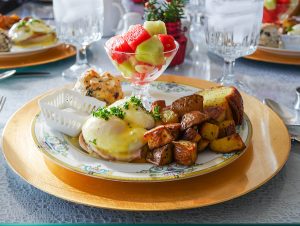 A Little Victorian History
Hydrotherapy was the practice of using baths of hot or cold water to cure what ails you. Seeing the enthusiastic response to this "medical" trend led many doctors who catered to wealthy clients to open their own hydrotherapy clinics. The water cure, as it's known in British history, was used to treat anything and everything. Were you a businessman suffering from baldness? An outspoken wife whose husband wanted to cure her of "hysteria", aka having an opinion? The water cure was for you.