Lots of tranquil white and pale green along with wicker furniture give this room a quiet, crisp feel. We have accented it with a collection of hammered aluminum trays. After a walk on the beach, make a roaring fire in our fire pit, located on the patio, then head to your room and sip champagne on your private balcony.
Third floor
Queen bed
Shower in bathroom
Fireplace (seasonal)
Private Balcony
Gourmet breakfast
Popcorn and cookies
Wifi
Smart TV/DVD
2 plush bathrobes
BeeKind toiletries
Hair dryer
Charging station
Extension cord
Parking space in our private lot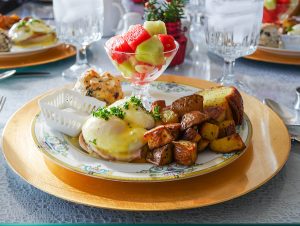 A Little Victorian History
The Victorian age was home to the most rigid social codes in British history. If a lady was at home in the day, she was expected to be properly dressed and prepared for visitors between the hours of 3 pm and 5 pm. The time visitors could arrive was dependent on how familiar an acquaintance they were, with closer friends and family permitted to visit later in the day. It would have been seen as poor taste for anyone to arrive earlier than 3 pm.