Imagine… stepping into the songbird room with colors of cheerful blues and calming greens. Whatever the season, you will never want to leave this room. Savor the wonderful view of the bustling harbor from your private balcony. Lounge and gaze at the flickering fireplace. Snuggle up and watch a movie or relax in the whirlpool for a romantic end to the perfect day.
First floor
Queen bed
Jacuzzi/shower combo
Private balcony
Fireplace (seasonal)
Gourmet breakfast
Popcorn and cookies
Wifi
Smart TV/DVD
2 plush bathrobes
BeeKind toiletries
Hair dryer
Charging station
Extension cord
Parking space in our private lot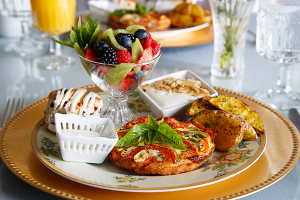 A Little Victorian History
At the turn of the 19th century in the U.S. and Europe, it became wildly popular—and that's an understatement—for ladies to wear feathers and whole taxidermy birds on their hats. One ornithologist reported taking two walks in Manhattan in 1886 and counting 700 hats; 525 of which were topped by feathers or birds.